GWA Calculator – Online Free General Weighted Average Calculation 2023
Are you a student looking for an efficient and convenient way to calculate your General Weighted Average (GWA)? Then this GWA calculator pisay is for you as the students know about the importance of GWA calculation. Because for further studies, the GWA is an essential part of the qualification. So to get this done correctly, this GWA calculator Philippines helps you to calculate your GWA accurately.
A General Weighted Average (GWA) is a method used to determine a student's average grade based on the courses they have taken and the respective units assigned to each course. This Online Calculator App provides a comprehensive overview of a student's academic performance, difficulty levels, and credit hours. To calculate this perfectly, put your units and grades and get your result.
GWA Calculator Philippines
Subject List
| Subject | Units | Grade | Actions |
| --- | --- | --- | --- |
What is General Weighted Average – GWA
First of all, GWA is a General Weighted Average. It's the typical grading system used in the Philippines for the grade calculation of a college or university students. The overall measure represents the performance of a student. It contains the grades you achieved in classes and the number of units in each class.
You should first learn about the grading system in Philippines if you are unaware. If you are a school, College, or University student, you can also check out the University of the Philippines grading system or PUP Grading System. If you are a high school student, check out how to compute gwa in SHS.
Calculating your GWA is essential for various reasons. Firstly, it helps you monitor your academic progress. Knowing your GWA allows you to assess your abilities and deficiencies in different subjects. Additionally, many institutions use GWA as a criterion for scholarships, honors programs, and other academic opportunities.
Continue reading to explore how to use this gwa calculator excel. A step-by-step guide is mentioned below. If you are good at math, you can also calculate your GWA by yourself with the help of gwa calculation formula represented below.
How to Compute GWA – Formula OF General Weighted Average
Doesn't matter if you are a school, college, or University student. You can calculate your grades with the help of this gwa bulsu calculator.
This GWA calculator utilizes a simple yet effective formula to calculate your weighted average. It multiplies the grade obtained in each course by its corresponding credit units, adds up the results, and divides the sum by the total number of credit units.
This process yields your GWA, which represents your overall academic performance.
To calculate your GWA, simply put the required values of grades and units you achieved and their subject names in the required sections, then click on the button to calculate GWA. So by this simple process, you get your total GWA. You can also convert your grades from GWA to GPA.
Formula To Calculate GWA
So with the help of this formula, you can calculate your GWA by yourself. But if you don't have any idea about that. Simply use this GWA Philippines calculator and get your results.
How To Use This GWA Calculator
To calculate your GWA using this online General Weighted Average calculator, follow these steps: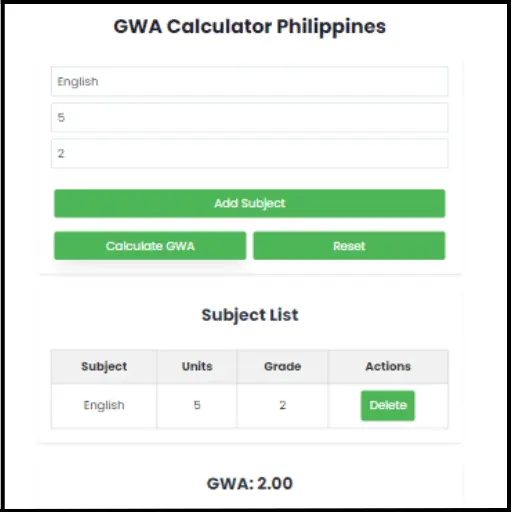 How to Use GWA App Calculator Philippines – Brief Video
Example OF How To Calculate GWA
In this example, the general weighted calculator considers the different weights assigned to each course and calculates the average grade for Sarah. It shows how the calculator accounts for the varying credit values of courses and provides a comprehensive measure of her academic performance and also effective for up gwa. To get the exact performance in percentage you can also take the advantage of gwa to percentage calculator for this purpose.
Advantages Of The GWA Online Calculator
The online GWA Philippines calculator offers many advantages over manual calculations. Check out some benefits:
Here are some tips to help you improve your General Weighted Average:
Calculating your General Weighted Average (GWA) is essential for monitoring your academic progress and maximizing opportunities for scholarships and honors programs. Also, it's important to check your abilities in your studies. This online general weighted calculator up diliman provides an efficient and user-friendly way to determine your GWA accurately. Mostly waldenu and other univeristy, school and college students use this for their calculations.
Utilizing this tool can save time, reduce errors, and gain insights into your overall academic performance. Start using the GWA myuste calculator today and save your time.
Frequently Asked Questions